INVISI-GARD security screens
As a licensed Invisi-gard dealer we can provide you with a custom built security door that offers unparalleled clarity of vision with enhanced security.
Using the unique, patented INVISI-GARD Pressure Retention and Isolation Method, you can be assured that the Marine Grade 316 Stainless Steel Mesh will defy the most determined attack from both intruders and corrosion.
Invisi-gard stainless steel security screens have a wide range of products suitable for the following residential and commercial applications: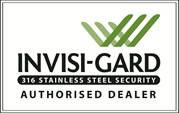 Hinged door
Patio enclosures
Sliding door
Emergency escape systems
Pool fencing
Windows 
All INVISI-GARD security screen doors and window security screens have been tested to Australian Standards AS5039-2008, so you can be assured you are choosing the finest in Stainless Steel Security Products. 
More Information
For more information on this or any of our other products please contact us on 9704 2469 or complete our general enquiry form.